Journey of CoffeyFIT
Teaching since 1983, Kelly Coffey-Meyer has designed and implemented group fitness programs in the largest clubs in Philadelphia and New Jersey. She was the first person to bring AFAA to Philadelphia in 1988 and has earned her programs the 'Best of Philly' awards. Always a competitive athlete, Kelly earned a field hockey scholarship and a Bachelor of Arts degree in Communications at Rider University. Her life-long training for sports and wellness was also utilized to compete in an eye-opening body-building competition in the early 1980s. After all of the years of training, it took stepping on the stage to trigger a deep desire to be an integral part of the fitness world she grew up in. Long after her colleagues started filming, Kelly jumped into the producing and filming arena to raise awareness of Dementia for her father. With the success of her first video, she has since released several videos worldwide.
"I never expected to film past the first DVD, the overwhelming response by fitness enthusiasts has carried me all this way. I am grateful that the success of the workouts has allowed me to receive many emails from others who are dealing with the agonizing mental decline of loved ones … I feel blessed to be able to lend them my shoulders and ears!"
– Kelly Coffey-Meyer
Along with increased Dementia awareness, Kelly has donated funds to Disabled Veterans in her father's name and continues to donate a portion of her sales to The Wounded Warrior Foundation each year. Kelly's lifetime of fitness aided her in pushing the industry's norms; she created the newest form of stepping called Stepboxing, is the owner and creator of the 30-Minutes to Fitness workout series, and has her RAW fitness channel on Vimeo called 30-Minutes to Fitness.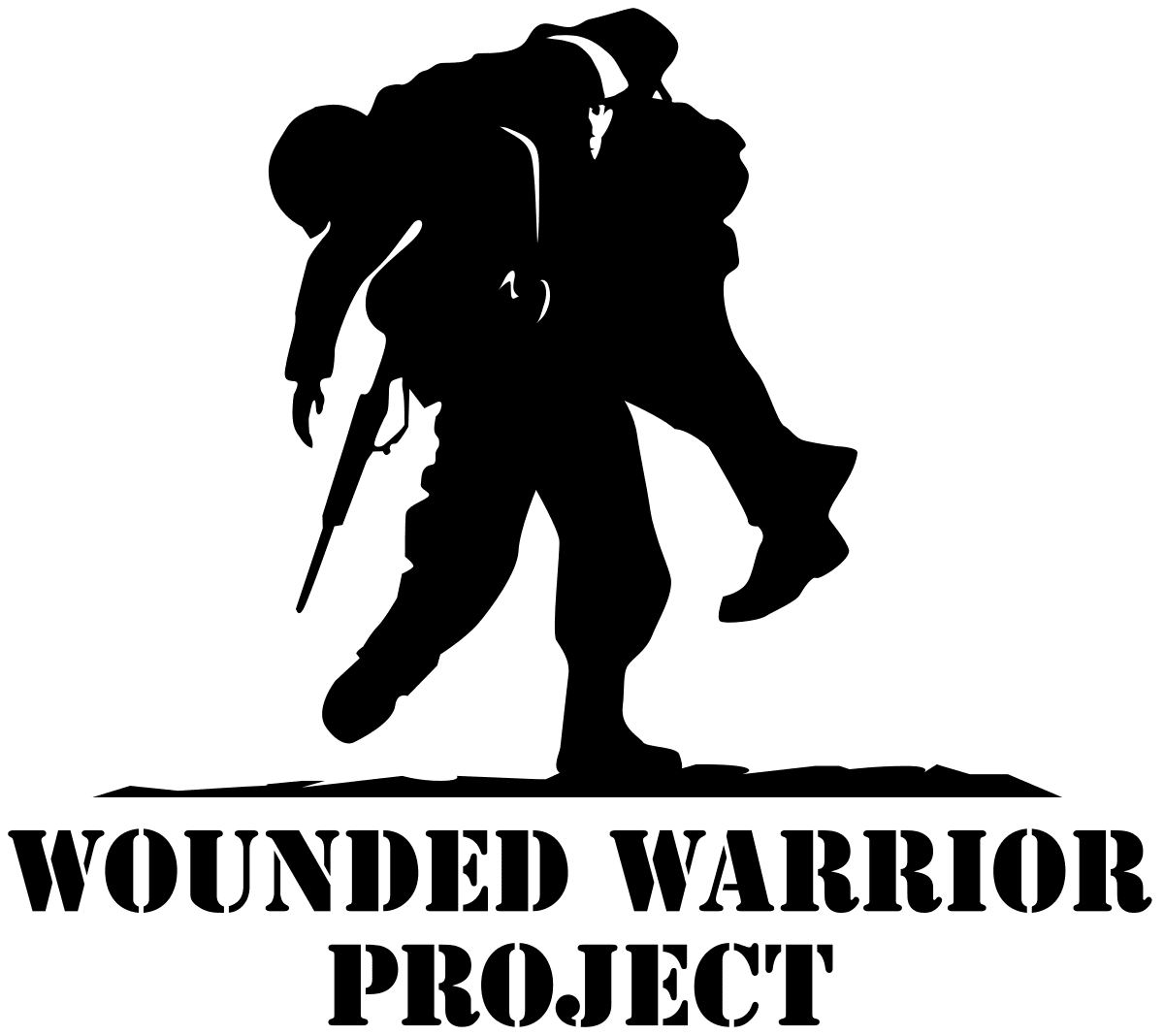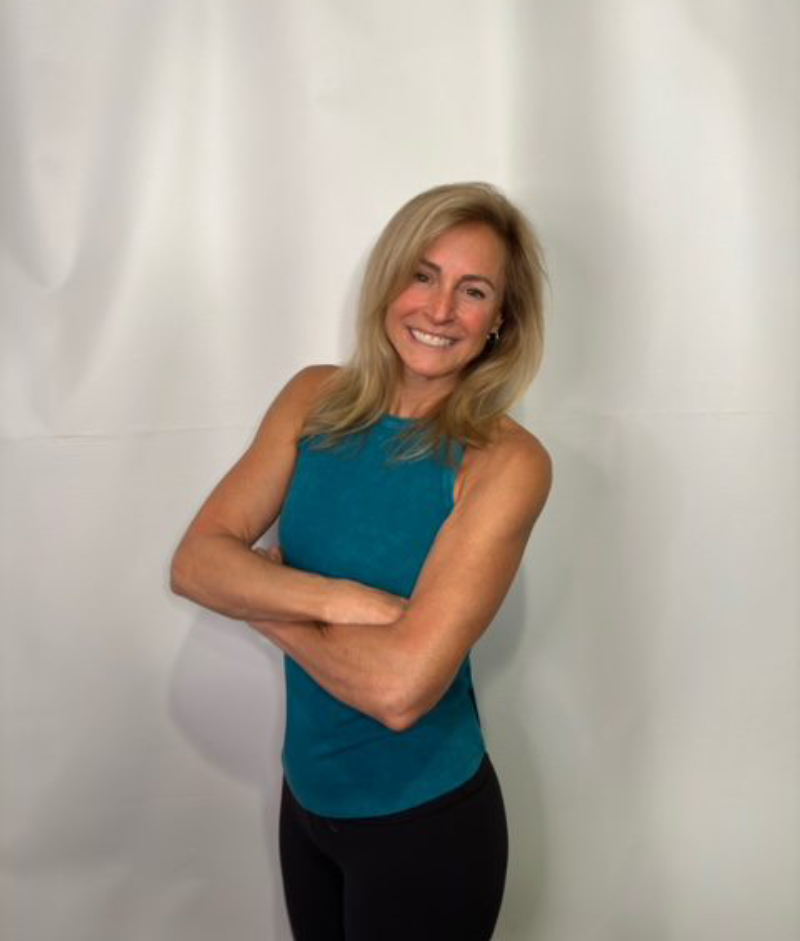 Her hard work has been recognized by the industry's best, including Fitness Magazine, USA Today, The University of Pennsylvania, and Oxygen Magazine, and it often appears in college Videos' Top Ten list. Due to her vast knowledge, Kelly has been published twice in Oxygen Magazine. Now in her mid 60's and the mother of two boys, Kelly remains rooted in the fitness industry, where she continues to encourage and inspire others in their quest for health and fitness.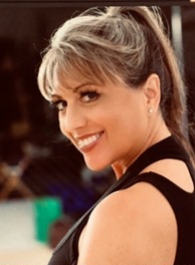 Samantha
After graduating from Santa Barbara Business College in California, she moved with her family to New Jersey. As a stay-at-home mom at the time, she religiously took Kelly's group fitness classes and was hooked. A year later, started training to appear on her Coffeyfit videos.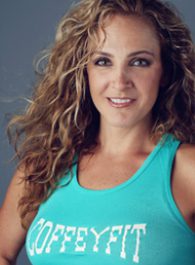 Lori
Throughout her life, Lori couldn't find a fitness program to keep her interest. In 2007, after learning she had osteopenia, she discovered Kelly's group fitness classes. They were so engaging and thorough that she hadn't stopped since. Her workouts always have a proper balance.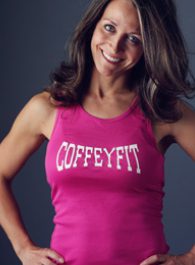 Noelle
Growing up in South Jersey, sports and working out were never a part of Noelle's life until after she had her three children. Her fitness journey began in 2009 when she went from couch potato to completing two triathlons in eight months.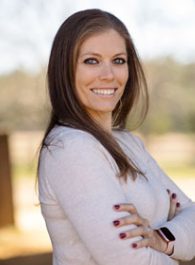 Kaitlyn
As a busy mother of two working full time, Kaitlyn found it very hard to work fitness into her life. After the birth of her second child and being very unhappy with herself, Kaitlyn knew that she needed to make her health a priority and started on her fitness journey. She began taking Kelly's classes about three years ago, and since then, she has found a love of fitness she never thought possible for herself.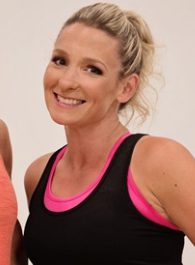 Jayne
Jayne graduated from Rutgers in 2000 with a degree in Accounting but didn't find field hockey to be rewarding, so she decided to become a stay-at-home mom. She joined a local gym, and that is where she met Kelly.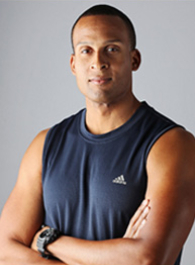 Marcus
Originally from Ohio, Marcus graduated from the Temple University graduate program in Urban Studies. He shared his athletic and professional excellence in numerous CoffeyFIT videos.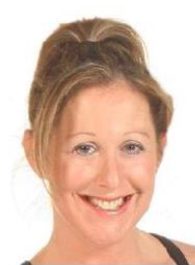 Lauren
Teaching since her days as a student at the University of Colorado. Lauren is an "Original" CoffeyFIT crew member. Lauren performed the coveted role as a modifier in many CoffeyFIT videos.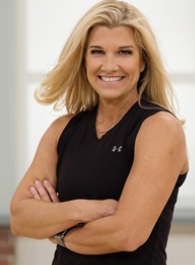 Lori S.
Fitness and health have always been an important part of Lori's life. After college, she moved back home to South Jersey and joined her local gym. Fitness became her stress relief and emotional support from her nursing job. This prompted Lori to become a certified instructor. Career, a family of five, and a hip replacement, she still finds fitness part of her daily routine.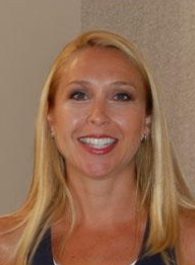 Jennifer
Through Jennifer's filming years with Kelly, she thoroughly enjoyed learning the routines while taking her classes at the gym. As a busy Mom, she appreciated killing two birds with one stone.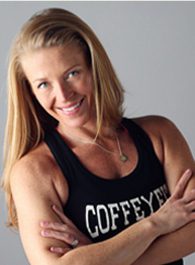 Michele
As a graduate of the University of Maryland with a law degree, Michelle lent her sports background to modify moves in Total Body Kickbox and Body Shop. She has since stopped practicing law and opened her own fitness studio.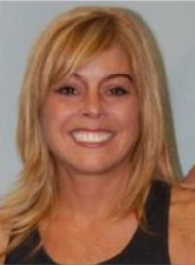 Kris
Kris graduated from Purdue University. She is an "original" Coffeyfit crew member, having starred in the very first Coffeyfit video in 2006 (Get Ready Step GO) and many thereafter.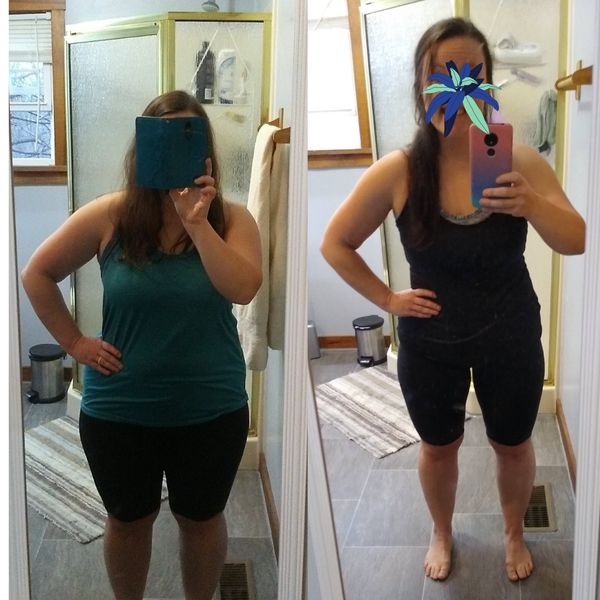 Chelsea
Hey, fitness friends! This is me in January 2020 and January 2021. I really appreciate this group and the wealth of experience and wisdom of its members. I love seeing you all pursuing health and fitness at all seasons of life, through all kinds of joys, trials and tragedies. It's such an inspiration!
Thanks, Kelly Coffey Meyer for your down-to-earth coaching style, and your realistic, sustainable workout plans. The first photos are from the beginning of last year's Transformation Challenge, at the end of which, Kelly graciously gifted BOTH new DVDs. I think the best way to show appreciation for a gift is to use it well, so I've been hitting Super Sculpt pretty hard for the last few months (with other workouts sprinkled in, of course). The second photos are from today. Cheers to 2021! Happy New Year, Coffeyfitters!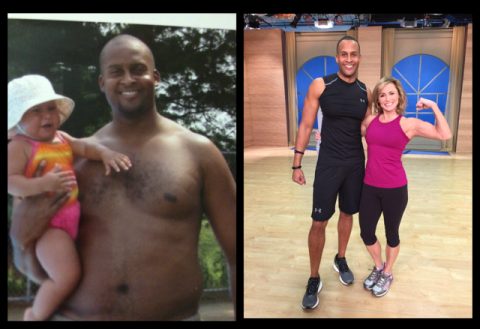 Marcus
Physical fitness is a daily journey for me. Some days good and some not so good. The struggle is real. As I get older, I'm realizing the struggle doesn't have to be such a struggle after all. Daily exercise and healthy diet have been touted as keys to health and wellness. I agree. In fact, I've made them a lifestyle for the past 12 years. Finding sources of motivation and inspiration to push through occasional boredom, monotony, tiredness and mental fatigue has played an integral role in turning a would be struggle into a fun filled adventure. Kelly Coffey-Meyer, longtime club manager, exercise guru, fitness instructor and owner of the 30 Minutes to Fitness video/DVD series is the most inspirational person in fitness I know. Kelly helped me take my B-game to A over a matter of weeks and transformed my body and fitness mind into their healthiest ever. Training with Kelly, I've learned how to push past feelings of fatigue to get the most out of my body and achieve my personal best! The picture featured here (left) is of me with my daughter Grace 12 years ago and (right) me and Kelly during the filming of her most recent 30 Minutes to Fitness video. I trained under Kelly several years prior. This picture is an example of what can be accomplished with proper motivation and guidance. Plug in to Kelly's system of fitness and discover your personal best.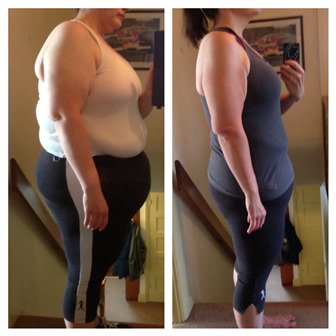 Anita
This is the result of 12 months of Coffeyfit rotations. No pills, wraps or potions only the occasional protein shake! I had worked out to DVDs in the past, but nothing has changed my body in the way that following your DVDs has. It sounds silly, but until I worked out with you I hadn't realised that it was right for it to be uncomfortable or that I had to fight through it – you were the first to tell me that! With your encouragement, I frequently surprise myself with what I'm capable of. I've still got a fair amount of weight to lose, and I know it's going to be tougher but I'll be sticking with you, Kelly because quite simply – COFFEYFIT WORKS!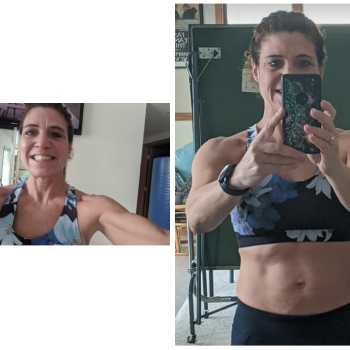 Shira
I usually never post selfies. But I THINK I see some muscles and abs thanks to Kelly Coffey Meyer workouts, boxing, eggweights etc.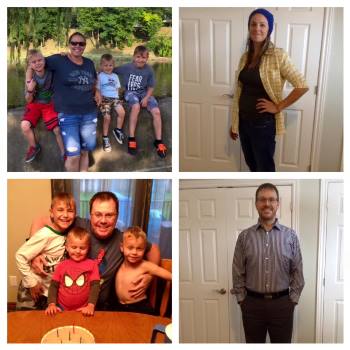 Tanya
This is what a treadmill and a bunch of Kelly Coffey Meyer workout DVDs can do. Combined weight loss = 100 lbs!!! Thanks for the motivation Kelly!